Modernist "Catholic" church in Vienna…
New Churches for a New Religion:
Welcome to "Most Holy Trinity Church" in Austria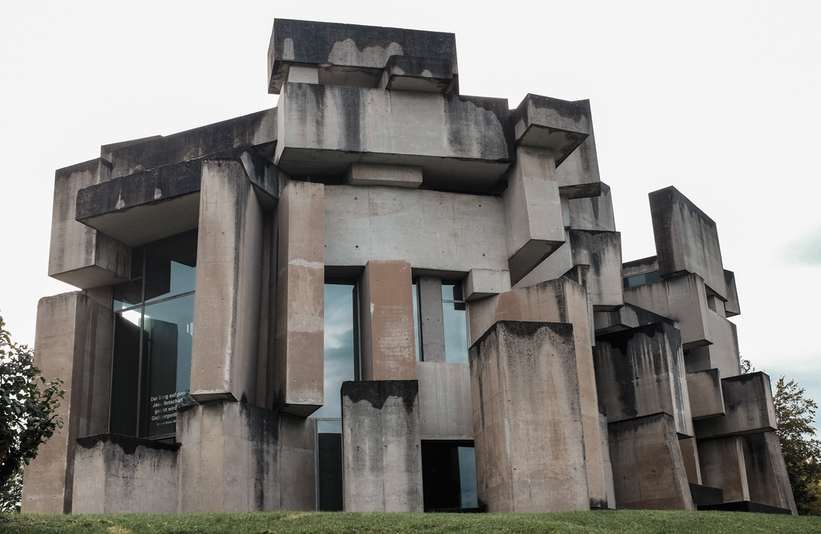 What do you mean, your mind isn't raised to heavenly things?!
In the toxic theological wasteland known as the "New Springtime" of Vatican II, it is difficult to determine just which Novus Ordo "Catholic" church is the absolutely worst piece of sculptural garbage out there. However, the building officially known as Most Holy Trinity Church in Austria's capital of Vienna is definitely among the top ten.
The picture above really speaks for itself; and although it only shows one side of the building, the rest of the monstrous edifice doesn't get any better. The sculptor who committed this atrocity is Fritz Wotruba (1907-75). The blasphemous edifice was built from 1974-76, so at least Wotruba didn't get to see its completion.
Various views from all around the "sacral" edifice can be found in this video:
An aerial view of the Modernist junk heap is provided in the following clip:
Thus far the outside of "Wotruba church." Of course there's an inside as well, and it's just as inspiring and edifying. See for yourself (click image to enlarge):
When you look very closely, you will see a potted plant on the altar. That's presumably to make it look pretty. Smart move!
Not surprisingly, the design of this "church" falls into the architectural category of "Brutalism", which became popular in the post-World War II era. It is a truly brutal attack on man's innate sense of beauty.
The Wikipedia entry for this monstrosity says that for this church building Wotruba "was inspired by a visit to Chartres Cathedral", which he "subsequently held up … as a yardstick to his own work."
Now, considering that THIS is what the Cathédrale Notre-Dame de Chartres looks like…
…we hate be so blunt about it, but it seems he missed it by a little.
For more ugly Novus Ordo churches, see the following:
Sacred architecture is a mirror of theology.
What sort of theology does Wotruba church reflect?
Image source: shutterstock.com / Wikimedia Commons (Bwag)
License: paid / CC BY-SA 4.0