Novus Ordo Watch for your ears…
TRADCAST 025 Now Available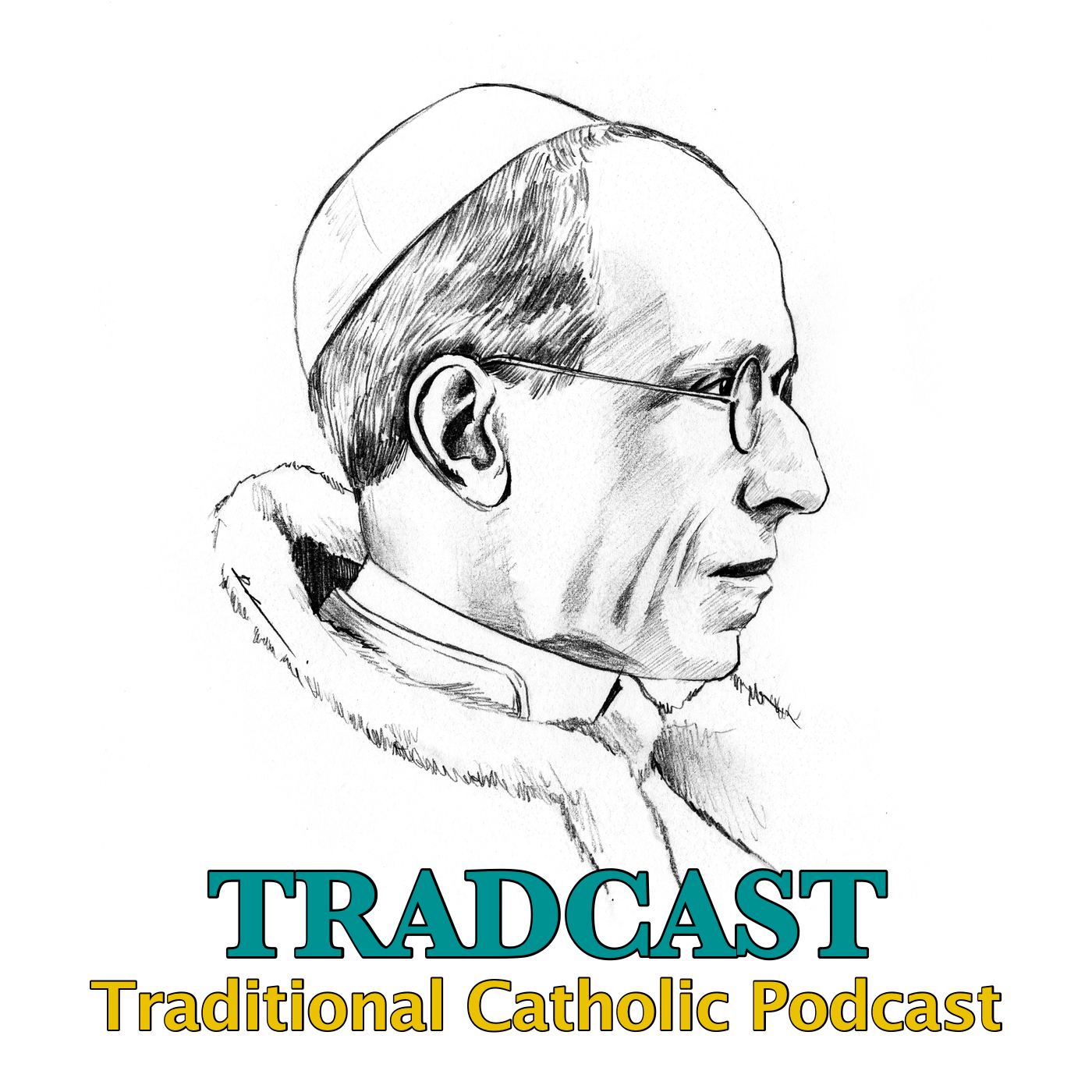 TRADCAST — The Traditional Catholic Podcast
CLICK HERE FOR MORE INFORMATION
AND TO LISTEN TO ALL EPISODES
In case you missed our initial announcement on August 21: We have published another full-length episode of our popular TRADCAST podcast program. As always, it is loaded with real traditional Catholicism, hard-hitting refutations of various errors, and razor-sharp analysis. Our content is typically challenging but is always delivered with a relieving touch of humor.
TRADCAST 025 consists of two separate segments. First we evaluate Dan Marcum's effort to paint Francis as an "anti-liberal", and in the process we examine the the Modernist strategy of using ambiguity and contradiction in order to spread heresy more effectively and with impunity. Then we comment on what happened when an "indult Mass" goer discovered what religion he is really a part of, and we examine the three main currents that developed in response to the revolution of Vatican II in the 1960s. We wrap up the first segment with a response to Robert Siscoe's argument, based on an abridged quote from Cardinal Louis Billot, that the "universal peaceful acceptance" by the Church of a papal claimant is an infallible sign of his legitimacy.
The second portion of the podcast begins with a brief announcement concerning Dr. Taylor Marshall's book Infiltration: The Plot to Destroy the Church from Within and then introduces Dr. Peter Chojnowski's "Sister Lucy Truth" project, which is dedicated to determining scientifically whether Sr. Lucy of Fatima was replaced with an imposter around 1960. We also preview the Vatican's upcoming Pan-Amazon Synod and expose the contradictory theology of the One Peter Five web site. We end the program by considering whether Sedevacantism really is, as is often alleged, a "dead end".
If you are new to the program, you will find that listening to TRADCAST is like drinking from a firehose of information. As always, the podcast is interlaced with important insights, quotes from solid Catholic sources, and some much-needed humor! The total run time of TRADCAST 025 is 1 hour and 11 minutes.
You can listen free of charge by playing the YouTube video above, or you can go to our TRADCAST 025 page, where you will find all the information you need for this show, including links to all the articles, books, blog posts, etc., mentioned in the podcast, and where you will also find ways to download this episode to your computer and sign up to be notified of new episodes by email.
Here's an idea: Why not throw a late-summer party and invite some friends, neighbors, or family members and listen to the show together and discuss it over hotdogs and burgers? Or how about hosting a virtual discussion with traditionalist or non-traditionalist friends using Google Hangouts or a similar conference tool?
If you are interested in listening to older shows, you can do so using our complete episodes list; or listen to a sermon or an apologetics/catechism class with your friends and family as well. This makes for great conversation — much more important than the usual family discussions — and will open people's eyes about Francis and the Novus Ordo Sect! It's one way you can do evangelization the easy way. In any case, don't miss this TRADCAST and spread the word!
As always, TRADCAST is entirely free of charge. Listeners who would like to support this podcast with a tax-deductible donation, may do so here.
Annoy the heck out of Francis — listen to TRADCAST!
Image sources: own creation / Wikimedia Commons (cropped)
Licenses: not applicable / public domain