Novus Ordo Watch NEWS DIGEST
August 16, 2019
Hop(p)ing to be hip: French Novus Ordos create "Catholic" parody of secular hip-hop song
Catholic Zero: Francis tweets that "Education with horizons open to transcendence helps young people to dream and to build a more beautiful world." Your local Masonic lodge couldn't have said it better!
Replace Christ with migrants, and suddenly Novus Ordos in Baltimore want to have a Way of the Cross procession through the streets…
Francis: 'Be not afraid of Migrants' because encounter. Germany: 8-year-old boy dies after being pushed in front of moving train by African migrant. Conclusion: Your first "encounter" may be your last.
You know you're not in the Catholic Church when your religion can learn something from your contradance community…
Words fail: Are these the death throes of the Vatican II Sect in Oregon?
Because dignity: Uruguayan "Cardinal" Daniel Sturla Berhouet wants to keep Trans-Rights Laws in Place…
How he did it: Correspondence by former "Cardinal" Theodore McCarrick to his abuse victim James Grein shows how he groomed his prey. Day of Reckoning: Grein sues New York Archdiocese and Vatican for for millions of dollars, says he told John Paul II of the abuse in person.
Typical blather from a post-Catholic "bishop": Irish prelate says mosque vandalism "is an assault on God and an assault on all people of faith." Uh… no, it's not an assault on God because mosques have nothing to do with the Holy Trinity, who alone is God. Secondly, it's not an assault "on all people of faith" but on Muslims alone; and besides, the only people who have Faith, objectively speaking, are Catholics. By definition. That's why they alone are called the faithful (fideles).
In hiding: Inside the Vatican editor Robert Moynihan meets "Abp." Carlo Vigano in secret location. Text of interview posted here.
Jesuit high school stripped of title "Catholic" after refusing to fire publicly perverted teacher. The Jesuits, of course, have now taken the case to Bergoglio's "who am I to judge?" Vatican…
The Paper Tiger from St. Louis, "Cardinal" Raymond Burke, has called the working document for the Amazon Synod "apostasy" and has said that it "cannot become the teaching of the Church." But then, neither can the claim that God sometimes desires couples to commit adultery, and yet it is part of Francis' exhortation Amoris Laetitia (see n. 303). After the Amazon Synod and its subsequent apostatical exhortation, perhaps Mr. Burke can issue another set of dubia… Meanwhile, ten things you could be doing rather than listening to another Burke interview…
Five ways to prepare for the Amazon Synod… inspired by liberation theology guru Leonardo Boff!
After decades of the tired same old liturgical shenanigans, it was time for something new: Introducing… 'Communion' Trays! With guaranteed approval by the god of surprises!
Conservative Novus Ordo group Voice of the Family is organizing a roundtable in Rome ahead of the Amazon Synod to discuss their deformed church. Among the panelists: Michael Matt, Michael Voris, and, of course, Taylor Marshall, who not too long ago was defending Amoris Laetitia! In other words, it will once again be the blind leading the blind.
In interview with La Stampa, the "Pope" opines that "that suffix, 'ism', is never good". You know, as in "Catholicism"…
"For there is nothing covered, that shall not be revealed: nor hidden, that shall not be known" (Lk 12:2): California Novus Ordo priest's car crash reveals he stole almost $100,000 from his parish.
Introducing… "invalid" papal ex cathedra statements! Brought to you by "Cardinal" Gerhard Müller… Is he just trying to be proactive?
He was Francis' beta version: Biography of notorious "Abp." Raymond Hunthausen (1921-2018) released…
Another Novus Ordo bishop who just radiates pastoral wisdom: "Climate should be 'a central priority' for US church, says Bishop McElroy"… Only if it's the climate after death, bucko…
Fake news on Fatima: Don't fall for this bizarre "real Third Secret" text…
Hell inclusive: Now we know who's behind Toronto's "All Inclusive Ministries" (get your surprise face ready!)…
John Paul II Institute on Marriage and Family Shake-Up: All professors suspended, president dismissed as part of 'destruction' of institute. George Weigel has called it "raw intellectual vandalism". Bergoglio's new institute will reportedly hire this immoral theologian. Students aren't taking it, threaten to abandon their studies there. They've also put up a web site to voice their objections. Asked for comment, the Vatican isn't ready yet to answer questions about this. Meanwhile, Benedict XVI has met with one of the dismissed professors. "Mgr." Nicola Bux accuses Bergoglio of a "dictatorship of the single thought", denounces "Stalinist methods with yellow gloves". Sedevacantist Tom Droleskey asks Bux under what rock he's been living. And now a number of international scholars have asked the administrators to rescind the dismissals. To be continued… surely!
Francis: Ordination of married men 'absolutely not' main theme of upcoming Amazon Synod. Good rule of thumb: Believe nothing about the Vatican until it's been officially denied… Especially when "it was Pope Francis who directed that bishops at the upcoming Amazon Synod discuss ordaining married men to the priesthood"…
Bergoglio giveth and Bergoglio taketh away: Francis grants to the Chicoms what he takes from the diocese of Ischia…
Move over, Transgenderism: Vatican hosts TransHumanist Conference.
An affectionate apostasy: New emetic book on Francis, The Pope of Tenderness, published in Spanish…
Foreign last names can make for really odd headlines: "Vatican appoints Hell to Pontifical Academy for Sciences." Those Germans again! But then they also have a "Bp. Bishop" over there…
It's time to pay the piper: Large number of Dutch churches to close in near future. The New Theology, of which the Netherlands have always been a hotbed, has made church irrelevant, and so the people drew the logical conclusion. And the Germans are figuring it out too.
What that "spirit" is saying down under: Australia's "Plenary Council" is a train wreck in the making…
Perfect for throwing away: Vatican to release official medal marking 7 years of the Bergoglian circus…
Novus Ordo couple with aboriginal roots celebrates "My Big Indigenous Wedding" in Brazil… But wait a minute, isn't Paganism pre-Vatican II??
Church Militant vs. Society of St. Pius X: The case of 'Fr.' James McLucas and that of 'Fr.' Eduard Perrone. This article started the feud: "Is the SSPX sheltering a sexual predator?" Even if all the article says is true, the word "shelter" is definitely uncalled-for. The Lefebvrists responded: "Press Release Concerning Church Militant Article Regarding the SSPX". Then the Voris operation doubled down with "SSPX Defends Sexual Predator", and responded "to SSPX allegations of dishonesty". Then Ann Barnhardt inserted herself into the debate, claiming that "Voris' parish priest, [Eduard] Perrone, literally founded and ran a massive fraudulent non-profit that sheltered countless abuser priests". Church Militant then published a post defending Perrone, claiming he is the victim of a "political hit job". Finally, The Media Report accuses the Voris operation of lying.
Jesuit rag America openly promotes Marxism: "The Catholic Case for Communism". Will we see a "Catholic" case also for slavery, Nazism, or pornography? Asking for a friend.
Attempting to be Catholic in the Novus Ordo Sect got him excommunicated: An interview with "Fr." Vaugh Treco. Sedevacantist Bp. Donald Sanborn comments on the case here.
Mr. Zuhl$dorf strikes again: "Fr. Z" once again celebrates anniversary of Pope Clement XIV's 1773 suppression of the Jesuits — a most tragic and unfortunate but virtually unavoidable decision — and uses the occasion to raise money for himself. (Recall his horrific promotion of an immoral movie to boost his Amazon commissions.)
Theology isn't her thing, that explains it: Ann Barnhardt tells her readers to "suffer with Christ" by assisting at a desecration of what she believes is the Blessed Sacrament — in order to fulfill their Sunday obligation. Be careful as your head hits the desk.
EWTN's News Nightly anchor Lauren Ashburn quits unexpectedly. Will Raymond Arroyo be the next one to suddenly discover the importance of focusing on family?
More of the same for everyone: Francis casts his eyes to Asia for potential "papal" trips. Think of how much carbon dioxide would be saved if he could just Skype instead!
Caution, "joyful encounters" ahead: American Novus Ordo bishops publish new resource for spreading the Vatican II religion.
See if you can find anything in it having to do with the life of grace or salvation: Francis' August "Pope Video" with prayer intentions for families.
Fifty years after they changed the Mass "so that the people can understand what's going on": Survey finds American Novus Ordos clueless as to what their religion teaches about the Holy Eucharist. That's because actions teach better than words: When this is how you distribute "Holy Communion", it doesn't matter what you say about it…
At least there is some kind of conversion going on in the Vatican II Church: Ecological Conversion of the Vatican Gardens…
Bad habits: Catching up with the 'Woodstock Nun' Susanne Bunn… With people like her teaching "faith formation classes", it's no wonder people lost the Faith, or never received it…
Francis offers more of his Naturalist tripe: "God's answer to our pain is a closeness, a presence that accompanies us, that doesn't leave us alone". No, it's not! God's answer to pain and suffering is offering His grace so all we suffer can, united to the Sacrifice of Christ, become redemptive for us and be our own Way of the Cross towards Eternal Life — He raises the natural to level of the supernatural, for our salvation. But Francis, as always, drags everything down to earth so that he preaches the Zollitschist heresy of Christ becoming man in order to show us solidarity in suffering.
Oops! Mr. Hunwicke accidentally posts quote that proves Francis cannot be a valid Pope! Don't you hate it when that happens?!
The very theology that was invented to supposedly prevent churches from becoming museums, has turned them into breweries instead…
The Remnant is back to asking rhetorically, "Is This Still the Church?" And in a few weeks they will remind you that you shouldn't be sedevacantist because that would be "leaving the Church"… Well, if it's not the Catholic Church, you should be leaving it as fast as you can!
Get ready for more Cupiches and fewer Stricklands: In 2020, Francis will be able to appoint an unusually high number of "bishops" in the United States…. Hey, if you accept a Modernist as Pope, don't complain if he gives you Modernism!
Here's a preview of what the U.S. will get: Aussie presbyter just appointed "bishop" by Francis "is open to discussions on how to make the Catholic Church more inclusive for people of all genders, backgrounds, and sexual orientations." What could possibly go wrong?
Francis blathers at European Scouts: "Did you notice that creation has no borders?" — Except that it has plenty of borders: rivers, lakes, oceans, mountains, chasms, bushes, the sky, and the ground. If you're looking for something to enter with open borders, your best bet is hell; heaven, by contrast, has rather strict immigration policies: "Enter ye in at the narrow gate: for wide is the gate, and broad is the way that leadeth to destruction, and many there are who go in thereat. How narrow is the gate, and strait is the way that leadeth to life: and few there are that find it!" (Mt 7:13-14).
Can anyone figure these people out? One Peter Five exhorts Eastern Orthodox to convert to Vatian II Sect, then tells them to join the resistance since that's not the Catholic religion either…
An indult Mass goer of many years discovers what religion he is really a part of…. This shows once more that the indult (and now Motu) Mass was instituted only to keep those with a traditionalist bent from abandoning the Vatican II Church… and it's worked great, hasn't it?!
Sounds just like their "Pope": Speakers at Vatican-run youth meeting call for women's ordination, LGBT inclusion.
Russell Shaw argues that disbelief in the Real Presence of Christ in the Holy Eucharist is nothing new, that it is found already in St. John's Gospel, Chapter 6. That's very true, but then those people turned away from the Lord and "walked no more with him" (Jn 6:67). That's not what's going on in the Vatican II Church, where all of those people who don't believe in the Real Presence are nevertheless officially considered Catholics and remain attached to that organization — they just "disagree" with the teaching but are still accepted as Catholics. And yeah, that is new!
Speaking of the Real Presence: What does Francis believe about that again?
Remember him? An interview with "Cardinal" Francis Arinze.
That Seventies Show: Marxist Liberation Theologian Leonardo Boff publishes photograph from 1972 showing him with a young Jorge Bergoglio.
The Archlayman of Miami, Thomas Wenski, recycles the usual platitudes against the death penalty: "If the state has been able to protect society from these admittedly bad actors by keeping them locked up till now, why is it now necessary to execute them?" Answer: It is necessary to execute them now because that is the just penalty they deserve for their crimes. Wenski further: "Does society really make a coherent statement against killing by killing?" Answer: That is not the statement society is trying to make. Rather, society makes the statement that murder is wrong by executing murderers. Duh.
But what crime could possibly merit the death penalty?? How about clerics sexually abusing deaf-mute children who cannot scream for help?
Someone let him out: Benedict XVI leaves Vatican for first time since his resignation, visits summer residence at Castelgandolfo.
Not that it really matters at this point: Vatican getting ever more positive about Medjugorje…
George Neumayr continues to expose the filth: Meet "Bambi", "Wanda", and "Randy Andy", members of the ongoing homo-pervert circus of the Vatican II Sect. In this report, Neumayr relates what happened when he confronted the former "Fr." Matthew Riedlinger…. And here he introduces you to new D.C. "Archbishop" Wilton Gregory's roommate. And did you know that according to Neumayr "Mgr." Walter Rossi employs a repeat criminal as his security supervisor?
CAUTION! "Bishop" Michael Gerber of Freiburg dedicates a Novus Ordo meal table…
Unhinged: Novus Ordo apologist Mark Shea has an F-word meltdown on social media.
Sorry Mexican Novus Ordo bishops oppose border wall because it "isolates from the encounter of one to another." Yeah, because people can't enter another country legally, you know…. They're always acting like there's no way to enter another country if it has secure borders, as though there were no official port of entry.
A walking preview of the Amazon Synod? Meet "Fr." Justino Sarmento Rezende.
Francis' friend "Bp." Gustavo Zanchetta, appointed to a nice Vatican post after he fled from his diocese in Argentina, finally has to face a secular court over charges he sexually abused seminarians (and one of those seminarians is now speaking out). So far, he's still smiling…
Video Sermon: Fr. German Fliess exposes how the false pope approves of sodomite "families".
Exclusive: Peter Chojnowski has obtained declassified CIA documents showing Pope Pius XII's plans for making Russia the great Catholic missionary field of the 20th century, and more. He's also posted more scientific evidence about the false "Sr. Lucy" of Fatima.
A lay blogger refutes Feeneyite follies not once but twice, and warns against raising private revelations (apparitions) to the level of Church teaching.
And Steve Speray introduces the 19th-century intellectual Catholic giant who destroyed Eastern Orthodoxy.
And one for the road…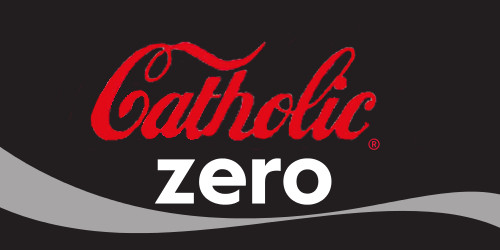 Favorite drink of the Novus Ordo Sect…