"…make not the house of my Father a house of traffic" (Jn 2:16)
"Cardinal" Barbarin turns Church into Restaurant for World Day of the Poor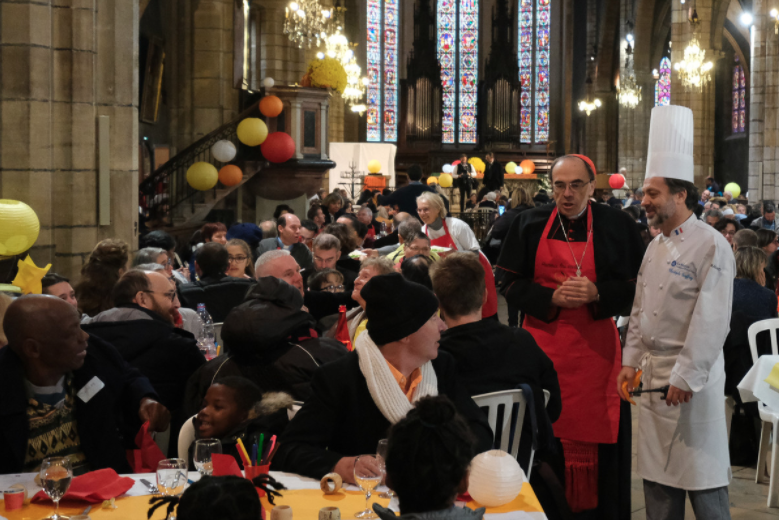 Since there hasn't been enough sacrilege and desecration in (formerly) Catholic churches throughout France since the 1960s, the Archlayman of Lyon, "Cardinal" Philippe Barbarin, decided to help out a bit.
On Sunday, Nov. 18, 2018, on the occasion of the Vatican-created World Day of the Poor, the Modernist pseudo-shepherd invited 700 needy people to a professionally-catered luncheon inside the beautiful church of St. Bonaventure in Lyon. No, we're not talking about the vestibule or some attached room for social gatherings — we're talking about the nave (central portion of the church). The pews had been dutifully removed to make room for the event, and in addition to the tables and chairs there were also balloons and other decorations all over the church, not sparing even the main altar in the sanctuary.
The title of the spectacle was "Heureux les invités" ("Blessed are those invited") — a blasphemous reference to Apocalypse 19:9: "Blessed are they that are called to the marriage supper of the Lamb."
The diocese of Lyon was not ashamed to produce a 10-minute video of the sacrilegious mockery, including an interview of Mr. Barbarin — who is currently on trial for accusations of sex abuse cover-up — and one with the chef who put the meal together:
Numerous pictures of the outrage are available on St. Bonaventure's parish web site, some select few of which we reproduce here (all images are © Pierre Guidet):
"Thou, O Lord, hast chosen this house for thy name to be called upon therein,
that it might be a house of prayer and supplication for thy people." (1 Machabees 7:37)
One must ask: Why did no one make a whip, overturn the tables, and drive these people out of this sacred place (cf. Mt 21:12-13; Jn 2:15-16)?
The French web site Medias Catholique reports that the total price tag for this sacrilege was 25,000 € (roughly $28,500). Of course no price is too high when it enables the defiling of a gorgeous traditional Catholic church built in the fourteenth century. What would be the point of doing this kind of thing inside one of the many Novus Ordo flying saucer churches, where the nave is essentially just a bare multipurpose room and there is nothing left to desecrate?
In case you're wondering who was the trendsetter for this wave of "let's eat inside church" sacrilege… well, we're not really sure, but we do know that "Cardinal" Crescenzio Sepe of Naples, Italy, has been doing this since at least 2011:
More details on the Sepe case can be found here.
To those of our readers who may now think, "Oh my goodness, someone needs to inform Pope Francis about this!", we must respond: Someone already has — and he loved the idea:
Buon pranzo!
The Novus Ordo religion is ultimately about the worship of man, not of God. In the Vatican II Church, God has de facto been relegated to the status of glorified village idiot, who gets to solve man's problems, grant his requests, and forgive his sins. Other than that, He had better stay out of the picture.
This abominable affront to the Most Holy Trinity is highly symbolic of what the Vatican II Sect has done in the past few decades: It has emptied Catholic churches of God and installed man in His place. In 1903, Pope St. Pius X identified as "the distinguishing mark of Antichrist" that "man has with infinite temerity put himself in the place of God, raising himself above all that is called God…", and he noted that man has "made of the universe a temple wherein he himself is to be adored" (Encyclical E Supremi, n. 5).
Over 114 years later, man has moved on and now "sitteth in the temple of God, shewing himself as if he were God" (2 Thess 2:4).
Image source: saint-bonaventure.fr (screenshots / © Pierre Guidet)
License: Fair use