"Popemobile" makes sudden stop…
Bruised and Wounded: Francis hits Head in Colombia
On several occasions "Pope" Francis has told the world that he prefers to have a church that is bruised, wounded, hurting, and dirty but goes out into the streets than one that is self-referential and comfortable in its certainties (for example, see here and here).
Well, today he got a taste of the bruised and hurting church himself as he traveled by "Popemobile" to receive the adulation of the crowds in Cartagena, Colombia. As the driver had to make a sudden stop, Francis's head hit the iron frame around the bullet-proof glass of the "Popemobile".
Here you can see the moment of impact and its results (click each image for larger view, if available):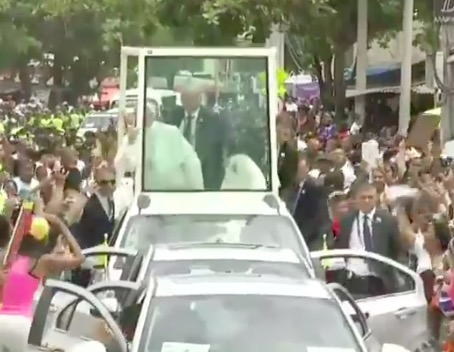 Francis did not appear to mind and simply kept going. The bruise was iced and as of right now, he is continuing according to plan.
These images are screenshots taken from the video feed provided by Vatican television, embedded below. The accident takes place at the 16:08 min mark.
This little accident will greatly increase Francis' public relations image as the shepherd who is willing to get tough and dirty for his people. Unfortunately, people are easily swayed by emotion and appealing words and no longer have any idea about true Catholicism thanks to Vatican II and its aftermath. They are effectively already hailing him as the Second Coming of Christ and do not realize that Francis is a false pope preaching a toxic gospel of man that is at odds with the true Gospel (cf. Gal 1:8-9) and only has one ultimate aim: to lead as many people to hell as possible while making them believe they are being fed the doctrine of Christ. "For such false apostles are deceitful workmen, transforming themselves into the apostles of Christ" (2 Cor 11:13). It could not be more diabolical.
"Then if any man shall say to you: Lo here is Christ, or there, do not believe him. For there shall arise false Christs and false prophets, and shall shew great signs and wonders, insomuch as to deceive (if possible) even the elect. Behold I have told it to you, beforehand" (Mt 24:23-25).
Image sources: Getty Images / youtube.com (screenshots)
Licenses: Getty embeds / fair use