It's Wojtyla Land, that explains it…
Liturgical Mayhem in Poland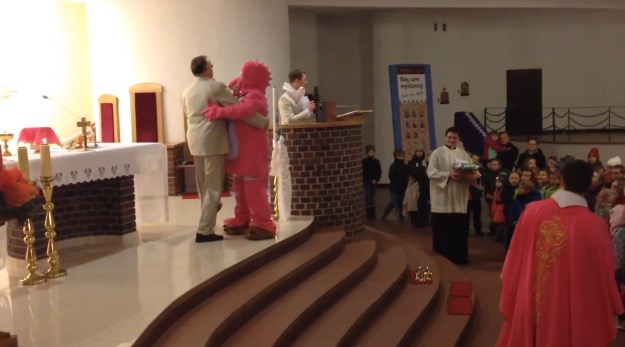 If some things are better left uncommented, this would have to be one of them. The video below is a liturgical disaster on Gaudete Sunday (Third Sunday of Advent) in a Novus Ordo parish in Katowice, Poland. This is perfect to show anyone who thinks that Modernist chaos liturgies are confined to the United States, Germany, and Austria. It is not so.
In case you're wondering why the "Pope" isn't doing anything about this sort of thing, that's because… umm… well… see this link here.
We recall that when the same "Pope" Francis proceeded to declare Karol Wojtyla a "saint" — the Polish superstar who invented extravagant "papal" liturgies — the hideous Crucifix of Cevo, dedicated to John Paul II, collapsed and killed a pilgrim who was on his way to the "canonization".
He who has eyes to see, let him see.
Image source: youtube.com (screenshot)
License: fair use