You shop, Amazon donates…
How to support Novus Ordo Watch this Christmas
— without spending a dime (extra)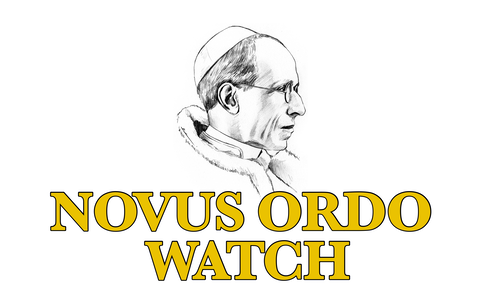 Dear Friends and Supporters of Novus Ordo Watch:
The Year of Our Lord 2020 is quickly drawing to a close, and the pre-Christmas shopping season is about to begin.
Novus Ordo Watch holds fundraisers only when there is genuine need, as we do not wish to burden people any more than is truly necessary. Thankfully, this year has seen sufficient monthly support and also sporadic individual contributions so as to render a special donations drive unnecessary. A big thank-you to all who have been supporting us financially and spiritually! Without you, this little apostolate could not be what it is.
Almost all our funding comes from donations. We also receive a little bit of support from sales commissions for purchases made at Amazon.com through our (relatively few) affiliate links, as well as from contributions made by Amazon through its "Smile" program.
Amazon Smile allows shoppers to designate a small percentage of the revenue generated by their orders to be donated to a charitable organization of their choice. Since Novus Ordo Watch is a public charity with tax-exempt 501(c)(3) status, Amazon customers have the option of designating us as the beneficiary of their purchases. Our official name is Interregnum Foundation, Inc. (federal tax ID: 81-1473306), of which Novus Ordo Watch is a DBA.
This means that if you are an Amazon shopper and were going to make Christmas (or any other) purchases anyway, we would like to encourage you to select Interregnum Foundation, Inc. as the beneficiary of the Amazon Smile program. This does not cost you one penny extra — it is Amazon that will donate based on how much you shop, every time you do.
In order to allow Novus Ordo Watch to benefit from your Amazon purchases, there is only one thing you need to do:
You must go to smile.amazon.com (instead of just amazon.com) to do your shopping, every time you want Novus Ordo Watch to benefit from your purchases
The very first time only, you must select Interregnum Foundation (tax ID: 81-1473306) to be your beneficiary so Amazon knows what charity you wish to have them donate to. To have that selected automatically, simply CLICK ON THIS LINK. It will take you to Amazon Smile and ask you to confirm that you want Interregnum Foundation to be the charity you're supporting. (In case the link only takes you to a generic Amazon page, without asking you to confirm anything, it means Interregnum was already set as your charity.)
Again, this will not cost you any money beyond that which you're already spending for the items you are ordering. Nor do you have to sacrifice anything else: The product selection is the same, the prices are the same, the service is the same — everything is the same, except that Novus Ordo Watch will now benefit from your Amazon purchases if you order at smile.amazon.com.
Although the actual percentage that Amazon will donate to us is miniscule when considered by itself (it is only 0.5% of the revenue generated), it does add up significantly if a lot of people participate, and especially over a longer period of time. This is not a Christmas-only thing — it works all year, every year.
So, from now on, simply shop through smile.amazon.com, and you will be helping to support Novus Ordo Watch automatically at no extra cost to you! Is that a fair deal or what?
Please keep in mind that all the content on this web site is entirely free to all, and it will always be that way. But it is not free to produce. Therefore, if you're not already supporting Novus Ordo Watch in some way but do occasionally shop on Amazon, please consider letting us benefit from what you were going to buy anyway.
Thank you, and may God reward all your generosity.